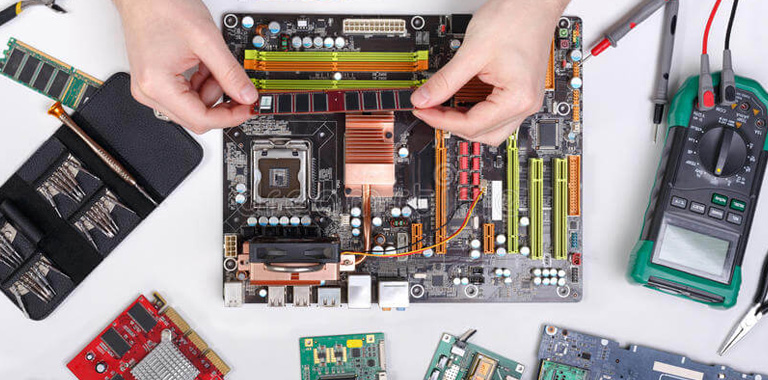 Most of you understand the importance of the motherboard. It is an integral part of any laptop and desktop. Even in MacBook logic board and motherboard is the same thing. If there are some issues with the motherboard or logicboard then you are in trouble. Are you ordering the new motherboard for your laptop? What we will advise but the new laptop. The price of the motherboard is 80% of the new gadget. So damages logicboard mean a new gadget. But it does mean that you cannot visit the  Motherboard repair shop in Leeds. The good news is that motherboard issues can be fixes.  So visit the laptop repair shop in Leeds is a good idea. But still, the repairing of this gadget cost you an arm.
Sometimes issues are not as big as it seems. Because of lack of knowledge, we are unable to fix that problem. So if your motherboard is giving you are the issues then it's time to learn about this component. So get ready to learn about motherboard tracing at the component level. Is not it sounding interesting?
If you are tech freak then you may like this blog.  The first thing is to find out the problem of motherboard failure then you can proceed with the fixes.
1: You must be thinking how to diagnose component issues on a damage motherboard?
Indeed, the mark of burn on motherboards is the dead sign. You can clearly find out the damaged area of the component. But if there is no visible sign of burn, then what would you do?  Must you be thinking of poking around it with the multimeter?  Bur, what will be the voltage setting? What are you looking for? For, this you need to understand the motherboard's power sequences. So it will guide you to look for the missing voltage on your motherboard.
2. Usually, it is the circuit shorting or the bad capacitor.
Some the cause of the motherboard failure is the bad capacitor or the circuit shorting. When with the ground it beeps then it means it is due to inferior capacitors. Usually, every capacitor in the laptop or MacBook motherboard is for coupling or filtering purpose. If it is giving the sound like BEEP, then you have to look for a sequence of a specific section. It is because to rule out the underlying cause. Sometimes it may be due to circuit shorting or bad connection. So may the motherboard is giving issue because of it. So if you can handle these issues the good if not then it is best to visit laptop repair shop in Leeds.
3. How to repair at the component level?
Now you have found the issues like a harmful component or bad capacitor it's time to fix it. So here comes the tricking part where you might need professional help. If you have command in this regard, then perform it at home otherwise looks for a Motherboard repair shop in Leeds. So, now you have to solder the new component. But be careful while performing these function because it may damage the surrounding parts of the motherboard. So, to avoid issues like these, it is best to choose the right tool for the soldering.
Have you performed this? If yes then great, otherwise Motherboard repair shop in Leeds is there to help you in these regards.
Some useful tips for finding motherboard issues:
Remember to find the cause of motherboard fault needs some experiences. If you have basic knowledge in this regard and have patience, then get ready to look for the fixes.
First, you need to measure the motherboard voltage and here is some range of power supply. Power supply range is from 12v to 1c on the motherboard. For instance, the north bridges require 2.5v,1.8v,1.5v,1.2v, 1.05 v, it all depends on the northbridge generation.
After that, you also have to measure the type of signals like CLK, CPURST, PCIRST.
Now you measure the resistance of each AD line. You measure it from RAM/CPU to northbridge it is because to find bad contacts and sequence.
So have to go into a voltage after and before triggering according to the power to a particular motherboard.
How do you find these tips? By following these tips, you can perform these fixes at home.
Conclusion:
To perform this function, you need to have specific tools.  You also require excellent soldering station and rework station, multimeter, MGS station.  If it confuses you then  look for Motherboard repair shop in Leeds.